QSPSF, Mother Teresa Hospital, Skopje, Macedonia
Macedonia, You are a Sunflower!
The Humanitarian Campaign in the Republic of Macedonia started on 04 June 2018, at a time when politically all of Macedonia was in turmoil. But on the closing day of the Campaign we concluded with a new name "NORTH MACEDONIA YOU ARE A SUNFLOWER". Everything went well and sooner from what was anticipated for the benefit and development of that country. State Hospital "Mother Teresa" for various diseases for children in the pavilion of Onkohematology had a lot of need, a similar situation as in Albania and Kosovo. In the first meetings with the Hospital's Heads and Doctors, they put all their essential needs. As in our two previous campaigns we worked to reach the goal, to complete everything that the doctors listed as the most immediate in the pavilion where they were treating children with blood disease, cancer and leukemia.
On 04 June, in Skopje "Skanderbeg" Square, a sunflower was lit by the Speaker of Parliament, Mr. Talat Xhaferi. A distinguished Albanian and influential in the region and Albanian issues. He recognized and supported the campaign and put on the sunflower t-shirt together with all MP's of the Macedonian Parliament, solemnly giving support to the "You are and Sunflower" Foundation for the established cause.
The campaign "Macedonia You are a Sunflower" was closed in record time. All t-shirts were sold and on the predetermined fund we had 2,000 euro more as people donated money to the kids without taking the t-shirts, just for them so nothing could miss.
This fund publicly went to the pavilion, receiving the thanks of Minister of Health of Macedonia, Mr. Venko Filipce during the closing ceremony. In a thankful speech to the Foundation that came from Albania and made a difference in their hospital where children are being treated from serious illnesses. During the speech he also listed the entire list of donated equipment.
In this campaign we met a gentleman named Agron Salamani, he was the donor for the payment of t-shirt production and joined our group as our co-worker who is still in our team today. For everything he did and is doing we are grateful the name of the children. Also "MediaK2" company was in cooperation with us for online sales and logistic part. Sali Limani was every day with us in every coordination, every part of our work, in our meetings with all and in consultancy, gratitude on behalf of children.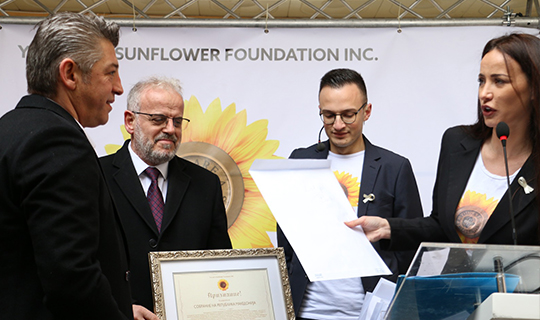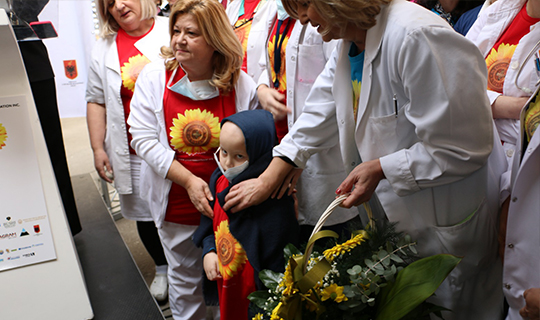 Mrs. Vjollca Bajrami became our ambassador from the beginning and though without such an official title she distributed the news of a volunteer work that the Foundation was doing and then in our first contacts with anyone she was the catalyst. Thank you for your sensitization and support.
A Distinguished Sir and successful, trusted businessman made the most astounding and noble jury among our experiences, he was Mr. Branip Bushi. This gentleman immediately bought 1.000 t-shirts that is in value of 20.000 euros and sensitized all partners and friends, in a few days thanks to his word all the t-shirts left sold out. This was a miracle and our joy was extraordinary.
As we thought day and night about those children who were pounding for their lives, and at least now we would complete what was immediate in their pavilion by praying and trusting in god for their health. T-shirts that remain without being taken by Z.Lalip Bush returned to Tirana and are sold online in our e-shop or at our shop for the next cause that is Bosnia and Herzegovina.
Miracles Happen!
So everything happened with our campaign in this state. Acknowledgment to every citizen who even bought a single t-shirt. Acknowledgment to all friends and associates, to the state institutions that recognized and supported us. In Northern Macedonia we are working again, as in the other two countries we have compiled a list of Pediatric needs and we are working on this job by trusting the best for children.